Cheap Denia Formentera Ferry Tickets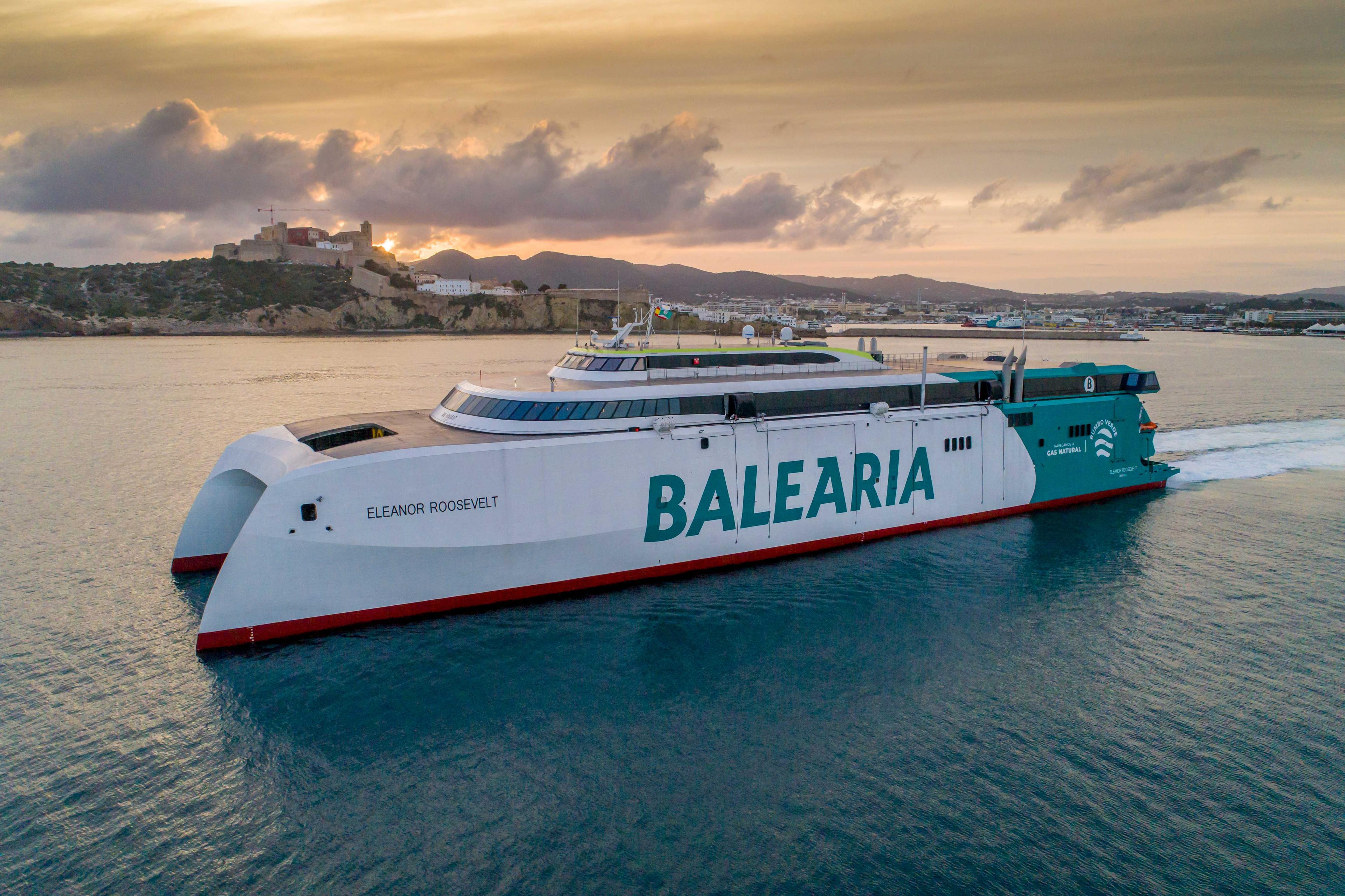 Best offers for Ferries from Denia to Formentera
The ferry from Denia to Formentera is a very popular route because it is the only direct way to travel from the mainland to Formentera, as it has no airport. It is very common to travel by boat to Formentera if you want to take your own vehicle on board, either to make a weekend getaway to Formentera, go and return on the same day or make a longer stay on the island.
The fast ferry from Denia to Formentera is operated by the shipping company Balearia and generally has several daily departures, especially from April to October. The journey time is approximately 2 hours and a half. For a direct trip, the best option is the fast ferry. Some ferries make a stopover in Ibiza, which increases the journey time to 5 hours.
If you are a resident of the Balearic Islands, remember that you can buy this discounted ticket on Clickferry. As this is a very popular route, we recommend that you book your ferry tickets from Denia to Formentera as far in advance as possible to ensure your preferred departure time and day.
On Clickferry you can book your boat trip from Denia to Formentera at the best price guaranteed. In addition, you can check days, schedules, prices and shipping companies that interest you to travel by ferry from Denia to Formentera. We check prices with all available ferry companies so that you do not have to do it and you can travel by ferry from Denia to Formentera at the lowest price.

First ferry
7:00 AM
Last ferry
22:30 PM
Denia Formentera Ferry Price
The average price of the fast ferry from Denia to Formentera is approximately 70 €, depending on the season in which we find ourselves can vary by supply / demand. For residents the price is 30 €.
The ferry fare from Denia to Formentera varies depending on the applicable discounts, the type of seat and the choice of embarking or not a vehicle. You can book the ferry from Formentera to Denia using our booking engine at the top of this page at the best price guaranteed for your dates.
Denia to Formentera Ferry Alternatives
Denia to Formentera Ferry Timetable
There are more than 3 daily ferry crossings from Denia to Formentera that will facilitate your trip, keep in mind that schedules vary on weekends. In order to book your trip safely check our ferry search engine for available times for your dates and book online your ferry tickets Denia Formentera at the best price.
The first ferry usually departs from Denia at 8.30 am and arrives in Formentera at 10:30 am. The last ferry from Denia to Formentera usually departs at 19:00h in the evening. Many users take the first ferry departing from Denia and return on the last ferry departing from Formentera for a day trip on the island without the need for an overnight stay.
Please note that ferry schedules from Denia to Formentera may vary depending on the season. Check our search engine for updated schedules according to your travel date to get the most up to date information.
Popular ferry operators for the Denia and Formentera ferry route
This route is operated exclusively by Balearia.
How long does the boat from Denia to Formentera take?
The duration of the ferry trip from Denia to Formentera is approximately between 2h and 2h and a half by fast ferry. Sometimes, it makes a stopover in Ibiza extending this duration up to 4-5 hours. This time depends on some factors such as the type of ferry (conventional or fast ferry) or the weather that accompanies us during the trip.
Where do I take the ferry in Denia?
The Port of Denia is the most important port as a connection to the Balearic Islands.
Once you arrive at the port, everything is very well signposted, you can enter either on foot or by car and find the Denia Maritime Station, also called Baleària Port.
Parking at the port of Denia
There is parking in the port of Denia for long stay (P2) for those who are going to make a trip and need to have the vehicle parked for more than an hour. The price is approximately 12€/day.
Travel by car or motorcycle from Denia to Formentera
If you want to make a ferry trip from Denia to Formentera with your own vehicle it is very interesting because you will need it to move around Formentera or any of the Balearic Islands, especially it is very comfortable to travel with a motorcycle to visit the beaches of Formentera.
You can travel with a car, motorhome, van, motorcycle or even bicycle here you can calculate how much it costs to embark your vehicle on board the ferry depending on its size. Remember to travel with time to board your car, at least 90 minutes before.
You can also navigate without a vehicle on board and rent a car in Formentera or use public or private transport services.
Important: During the summer months (from June 15 to September 15) travel to Formentera by car has a limitation, since the population during these months triples, it is necessary to request prior authorization to enter your car or motorcycle on the island.
For more information visit: https://formentera.eco/es/informacion
The main advantage with respect to rental cars, is that rental cars are not usually able to move between islands and also renting them is usually much more expensive than traveling with your vehicle on the ferry. It is also common that there is little availability of vehicles for rent, so if your plan was to continue traveling between the Balearic Islands with your vehicle, it is a fantastic idea to take your car or motorcycle on board.
Travel with pet on ferry Denia to Formentera
Many shipping companies allow the transport of pets on board their ships and ferries. It is very important that you consult with our customer service what are the requirements, they may request the health vaccination card, official animal identification document, traveling in a carrier or if you are traveling with a dog, that it is always properly restrained with muzzle and leash during boarding.
If you have any doubt, please contact our Clickferry customer service.
Discount ferry tickets Denia to Formentera
Where to buy a cheap ticket for the Denia to Formentera Ferry?
Clickferry is the N1 Ferry ticket comparator in Spain. In our search engine you can find the cheapest ferry tickets to make an advance purchase of Denia to Formentera Ferry tickets online on our website to choose the best timetables at the best price. Here are some special situations where extra discounts are applied to the promotions and discount coupons that are already active in the search engine.
Discounts for residents of Formentera on the ferry Denia-Formentera
Residents of the Balearic Islands are entitled to a 75% discount on the general fare, in addition, this rate is usually cumulative with other applicable discounts.
These discounts do not apply to vehicles or other services.
Ferry tickets for large families from Denia to Formentera
You can get discounts on boat tickets for being a large family, discounts apply to both general and special large family. The offer is exclusively for people, excluding vehicles and services.
The documentation will be the Official Title of Large Family or Individual Document issued by the corresponding Autonomous Community, in force and the DNI or equivalent document. If you are under 14 years of age and do not have this document, the date of birth must be noted on the ticket.
Discounts for summer seasonal workers in Formentera on the ferry Denia-Formentera
If you are a seasonal worker in the Balearic Islands you can have a discount of up to 15% on your ticket generally both at the beginning and at the end of the season.
At the time of boarding you may be asked for identification to prove your status: payslip, employment contract or other document proving that you have been working during the season.
Doubts about the choice of ferry?
At Clickfery, we make it easy for you! We offer you personal customer support and help you make your trip. Enter our FAQ section or contact us by Whatsapp in case of any doubts or request after checking them.