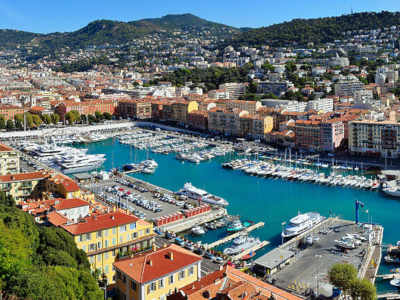 France is one of the main tourist destinations in Europe and in the world. A country located in western Europe, touching the Atlantic Ocean and the Mediterranean Sea.
Paris, its capital, is one of the most visited, most attractive cities in the world. The City of Light is home to great tourist and cultural icons like: the Eiffel Tower, the Louvre Museum, the Arc de Triomphe, Notre Dame Cathedral and many more.
In addition to Paris, France has many great cities that showcase tradition and culture as well as being very significant tourist destinations, such as Marseilles, Lyon, Nice, Bordeaux and Cannes.
Travelling to France by ferry is the best option to discover the north coast of the country. Small seaside towns, walled cities and cobbled streets come together to form a unique landscape in the regions of Normandy and Brittany. The city of Caen is home to one of the vastest fortified enclosures in Europe, the Château Ducal. The port of Cherbourg welcomes you to the Cité de la Mer, an enclave notable for its rich sea heritage brought by the sailors, scientists and adventurers that arrived at this city from the north of France. Roscoff is one of the major holiday destinations on the Atlantic coast in France, due to its beautiful fine sand beaches and its cuisine based on seafood and other fresh products of the region.Arriving in St. Malo by ferry, we find ourselves in the depths of a walled city with large, medieval structures. Strolling through its cobbled streets will make you relive former times.
Book your ferry ticket now to travel to France and discover the simplest, cheapest way to get to know this country rich in history, culture and fine cuisine.