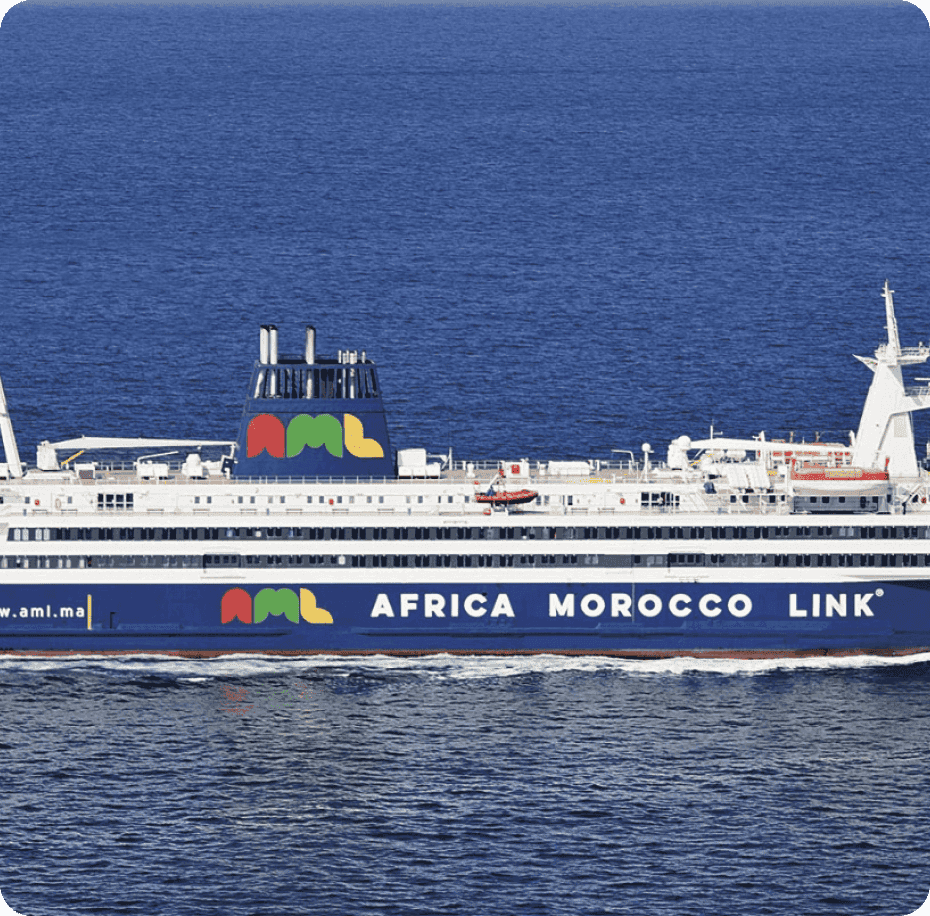 Africa Moroco Link
Africa Moroco Link (AML) is the reference shipping company for passenger transport on the route Algeciras - Tangier Med.
It is one of two Moroccan shipping companies currently covering ferry routes between Africa and Europe, and was founded in 2016.
Along with Blue Star Ferries and Superfast Ferries, AML is a subsidiary company of Attica Group, one of the largest international ferry groups.
Your fleet is made up of 2 ships (MOROCCO SUN and MOROCCO STAR) covering the route between Algeciras and Tangier with 6 daily departures of 1 hour and 30 minutes duration. The ships can carry up to 1500 passengers and 400 vehicles.
Aboard AML ferries you will find a reception area, restaurants and bars with typical menus of the local Moroccan cuisine, a shopping area and other services that make Africa Moroco Link one of the Moroccan favorites.
Due to COVID-19, the shipping company does not allow the purchase of OPEN tickets, as it is mandatory to select the date and time of travel. However, before the departure of the ship it is possible to change the date and time of the voyage by contacting our customer support.
In order to travel with a rental vehicle, you have to make sure it is allowed by the rental company.
In addition, if you are traveling with vehiclea must be two and a half hours before at the boarding gate. It is necessary for all passengers to present their boarding pass and passport to authorized ship personnel.
Clickferry.com offers you the possibility to travel with Africa Morocco Link at the best price. Book now your ferry ticket and get the best fares, all schedules and all routes to travel with AML.
Routes
From Spain
From Tangier
See the legal terms of the transport contract of AML - Africa Moroco Link