Cheap Algeciras Tangier Med Ferry Tickets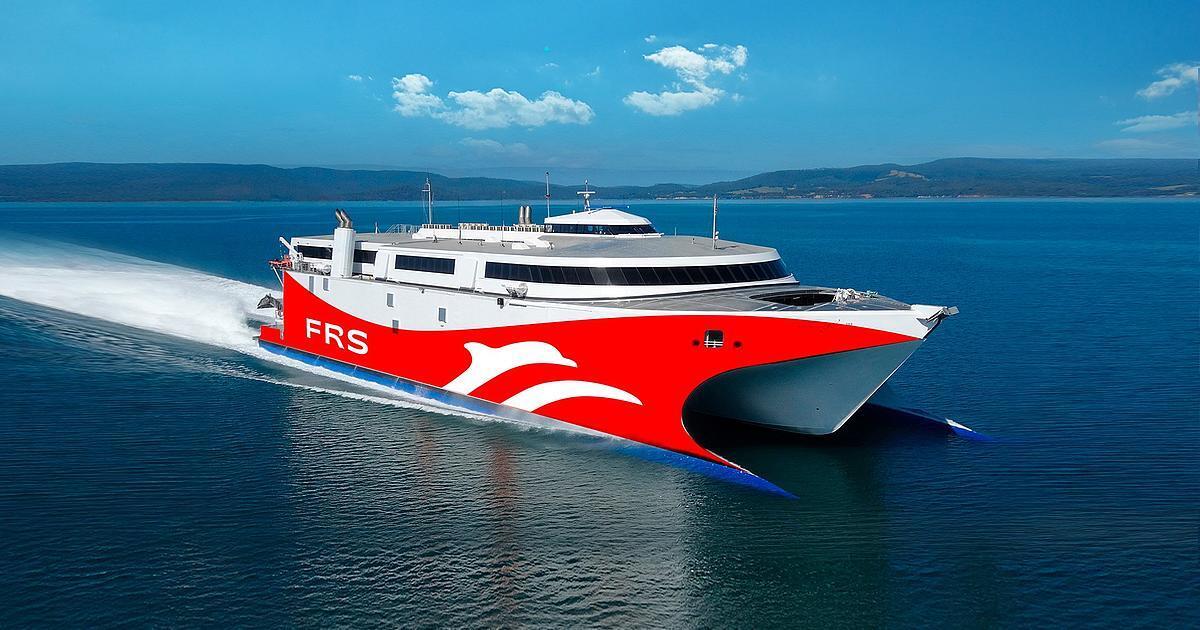 Best offers for Ferries from Algeciras to Tangier Med
If you need to travel to Morocco from Spain, the ferry route from Algeciras to Tangier Med is one of the most booked maritime routes in Spain. With this boat trip to Morocco you will reach the port of Tangier Med, which is the place of passage of maritime traffic par excellence, located about 45km away from the city of Tangier Ville.
The boat route from Algeciras to Tangier Med has more than 20 daily departures and has an average duration of 30 minutes depending on the type of ferry and is operated by several shipping companies mainly Balearia, FRS and Trasmediterranea.
At Clickferry you can book cheap Algeciras Tangier Med ferry tickets, we have the best price guaranteed with no hidden costs. You can also check which days, schedules, prices and ferry companies you are interested in to travel by ferry from Algeciras to Tangier Med.
Important: The authorities recommend buying the ferry Algeciras Tangier Med online to arrive at the port with the ticket closed (shipping company, day and time assigned). They will give priority to boarding.

First ferry
7:00 AM
Last ferry
22:30 PM
Algeciras Tangier Med Ferry Price
The average ferry price from Algeciras to Tangier Med is approximately 36€ depending on the season we are in may vary due to supply/demand. You can book your ferry crossing from Tangier Med to Algeciras using our online ferry search at the top of this page at the best price guaranteed for your dates.
Algeciras to Tangier Med Ferry Alternatives
The alternative route to Tangier is the ferry from Tarifa to Tangier Ville.
Ferry timetables from Algeciras to Tangier Med
There are more than 20 ferry crossings daily during the week from Algeciras to Tangier Med which will facilitate your journey, please note that timetables may vary on weekends. In order to book your trip safely check our online ferry booking system for the available timetables for your dates and book your Algeciras Tangier Med ferry tickets online at the best price.
As this is a very popular route, we recommend that you book your ferry tickets from Algeciras to Tangier Med as far in advance as possible so that you don't miss out on your ticket and enjoy the best price.The first ferry usually leaves Algeciras at 1.00 am and arrives in Tangier Med at 01:30 am. The last ferry from Algeciras to Tangier Med usually departs at 23:59h in the evening.
Please note that ferry schedules from Algeciras to Tangier Med may vary depending on the season. Check our search engine for updated schedules according to your travel date to get the most up to date information.
Popular ferry operators for the Algeciras - Tangier Med ferry route
In the Strait Passage operate several shipping companies, in particular that perform the route by ferry and fast ferry from Algeciras to Tangier Med are Trasmediterranea, Balearia and FRS.
How long does the ferry from Algeciras to Tangier Med take?
The duration of the journey by fast ferry from Algeciras to Tangier Med is approximately 30 minutes, where we travel by fast boat about 37 kilometers. In a conventional ferry the duration ranges between 60 and 90 minutes. The time depends on some factors such as the type of ferry (conventional or fast ferry) or the weather that accompanies us during the trip.
Where do I take the ferry in Algeciras?
The Port of Algeciras is one of the most important ports in Spain due to its geostrategic enclave. When you get to Algeciras you will have to cross a river on the road, from there you will find signs that will show you how to get to the port, you just have to stay on the left, follow the signs and go through a tunnel, then you will reach the security checkpoint and as you advance you will find the ferry terminal to travel to Tangier Med and Tangier.
Parking at the port of Algeciras
If you do not want to travel with your car or motorcycle on this crossing and you are looking for a place to park, in the port of Algeciras you have two public parking lots where you can leave your vehicle, one covered and one outdoor, both guarded 24 hours a day.
More information aboutthe port of Algeciras.
Travel by car or motorcycle from Algeciras to Tangier Med
If you want to make a Ferry trip from Algeciras to Tangier Med with a car, motorhome, van, motorcycle or even bicycle here you cancalculate how much it costs to embark your vehicle on board the ferrydepending on its size .
Please note that if you are traveling outside the European Union as is the case in Morocco, your vehicle insurance may not cover you. You should ask your insurer for the green card, which shows all the countries where you are covered for damages.
Traveling with pet on ferry Algeciras to Tangier Med
Before traveling to Morocco with your pet you should plan it with time and inform yourself well. In Morocco it is not as common as in Spain to have a dog as a pet. It is common that they may request a specific serological test for rabies antibodies, both on the way there and on the way back, so it is interesting to get information before traveling to Morocco with pets.
Many shipping companies allow the transport of pets on board their ships and ferries. It is very important that you check with each shipping company which are the requirements, they may request the health vaccination card, official animal identification document, traveling in a cage or carrier or if you travel with a dog, that it is always properly restrained with muzzle and leash during boarding.
We recommend consulting directly with the shipping company about their animal transportation policies.
Documents required for travel from Algeciras to Tangier Med
To travel to Morocco you need to have a passport with a minimum validity of 6 months. For foreign tourists, the maximum period of stay is 6 months per year.
Currency exchange from Euros to Dirhams
The national currency in Morocco is the Dirham. If you travel with cash in euros you can exchange euros for dirhams in Spain or do it in Morocco. The exchange rates are usually better the further you are from the border with Spain, you can check in banks and exchange houses to see where you are more interested in making the change. The Central Bank fixes daily the exchange rate of the dirham against the main foreign currencies.
Discounted ferry tickets Algeciras to Tangier Med
Where to buy a cheap ticket for the Algeciras to Tangier Med Ferry?
Clickferry is the N1Ferry ticket comparator in Spain. In our search engine you can find the cheapest ferry tickets to buy Ferry tickets from Algeciras to Tangier Med online on our website to choose the best timetables at the best price. Here are some special situations where extra discounts are applied to the promotions and discount coupons that are already active in the search engine.
Algeciras-Tangier Med Ferry Discounts
Children under 3 years old can travel for free on this route.
Special discounts are available for children between 4 and 12 years old, students, large families and permanent residents.
Doubts about the choice of ferry?
At Clickfery, we make it easy for you! We offer you personal customer support and help you make your trip. Enter our FAQ section or contact us by Whatsapp in case of any doubts or request after checking them.