Cheap Ferry Almeria Nador Ferry Tickets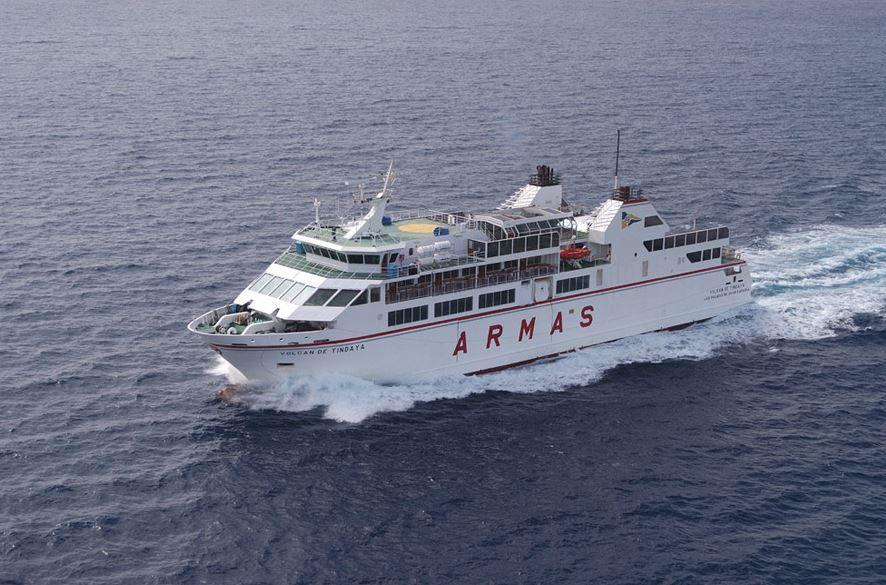 Best Almeria to Nador Ferries deals
If you need to travel to Morocco from Spain, the Almeria to Nador ferry route is one of the key routes to do so.
The Almeria to Nador ferry route has up to 20 sailings weekly and has a journey duration of between 4 and 10 hours depending on the type of ferry. This route is operated by several ferry companies throughout the year mainly Balearia, Grandi Navi Veloci (GNV) and Armas Trasmediterranea.
On Clickferry you can book the cheapest Almeria Nador ferry tickets, we have the best price guarantee with no hidden costs. You can also check which days, schedules, prices and ferry companies you are interested in to travel by ferry from Almeria to Nador.
Important: The authorities recommend buying the ferry Almeria Nador online to arrive at the port with the ticket closed (shipping company, day and time assigned). They will give priority boarding.
The Moroccan city of Nador is famous for its beaches, its cultural attractions and its gastronomy. It is only 15 kilometers from Melilla. It is a very important city in Morocco and is very well connected so if you are looking to make a route through Morocco can be the perfect location.

First ferry
7:00 AM
Last ferry
22:30 PM
Almeria Nador Ferry Price
The average ferry price from Almeria to Nador is approximately 80 € depending on the season we are in as well as the type of ferry may vary by supply/demand.
You can also book your return ferry trip from Nador to Almeria using our online ferry search at the top of this page at the best price guaranteed for your dates.
Almeria to Nador Ferry Alternatives
The alternative route to Nador is the ferry from Almeria to Melilla. You can get by car from Melilla to Nador in a 30 minute trip, although you will have to add the time to cross the border.
Another way to get to Nador is by plane, as the city has an international airport, although the prices of the trip are usually much higher than those of the ferry.
Almeria to Nador Ferry Timetable
There are more than 20 ferry crossings per week from Almeria to Nador to make your journey easier. In order to book your trip safely check our online ferry booking system for the available schedules for your dates and book your Almeria Nador ferry tickets online at the best price.
Being a very popular route, our recommendation and that of the authorities is that you make your ferry reservation from Almeria to Nador as far in advance as possible so you do not run out of your ticket and enjoy a better price.
Although timetables depend very much on the dates, in general, the first ferry usually leaves Almeria at 08.00h in the morning and the last ferry from Almeria to Nador usually departs at 16:00h in the afternoon.
Please note that Almeria to Nador ferry schedules may vary depending on the season, so this information may change. Check our search engine for updated schedules according to the date of your trip to get the most up to date information.
Popular ferry operators for the Almeria - Nador ferry route
How long does the ferry from Almeria to Nador take?
The duration of the journey by fast ferry from Almeria to Nador is approximately 4 hours, where we travel by fast boat about 187 kilometers. In a conventional ferry the duration ranges between 6 and 7 hours.
The time depends on some factors such as the type of ferry (conventional or fast ferry) or the weather that accompanies us during the trip.
Where do I take the ferry in Almeria?
The Port of Almeria is an important ferry port and quite busy because of its connection with Africa. Therefore, we recommend arriving at least 4 hours in advance, especially if you are going to embark a vehicle on the ship.
The location of the Port of Almeria is very close to the city center, it is near the Nicolas Salmeron Park and can be reached easily on foot, by bus or cab. Once you are in the port you will have to go to the Maritime Passenger Station of the Port of Almeria, a two-storey building of 8,400 m2 where passengers embark and disembark from the regular ferries to North Africa and which has all kinds of services for passengers.
Parking in the port of Almeria
If you do not want to travel with your car or motorcycle on this route and you are looking for a place to park, in the port of Almeria you have parking to leave your vehicle.
More information about the port of Almeria.
Travel by car or motorcycle from Almeria to Nador
If you want to make a ferry trip from Almeria to Nador with a car, motorhome, van, motorcycle or even bicycle here you can calculate how much it costs to embark your vehicle on board the ferry depending on its size.
Please note that if you are traveling outside the European Union as is the case of Morocco, your vehicle insurance may not cover you. You should ask your insurer for the green card, which shows all the countries where you are covered for damages.
Next to the Maritime Station Building of the Port of Almeria are the customs and police controls for vehicles embarking and disembarking from the ferries.
Traveling with pet on ferry Almeria to Nador
Before traveling to Morocco with your pet you should plan it with time and inform yourself well. In Morocco it is not as common as in Spain to have a dog as a pet. It is common that they may request a specific serological test for rabies antibodies, both on the outward and return, so it is interesting to find out in advance before traveling to Morocco with pets.
Many shipping companies allow the transport of pets on board their ships and ferries. It is very important that you check on the website of each shipping company which are the requirements, they may request the health vaccination card, official animal identification document, traveling in a cage or carrier or if you travel with a dog, that it is always properly restrained with muzzle and leash during boarding.
In case of doubt, we recommend that you consult directly with our customer service department.
Documents required to travel from Almeria to Nador
To travel to Morocco you need to have a passport with a minimum validity of 6 months. For foreign tourists, the maximum period of stay is 6 months per year.
Currency exchange from Euros to Dirhams
The national currency in Morocco is the Dirham. If you travel with cash in euros you can exchange euros for dirhams in Spain or do it in Morocco. According to the experiences of other travelers the exchange rates are usually better the less you move away from the border with Spain, you can check in banks and exchange houses to see where you are more interested in making the change. The Central Bank fixes daily the exchange rate of the dirham against the main foreign currencies.
Almeria to Nador ferry ticket discounts
Where to buy a cheap ticket for the Almeria to Nador Ferry?
Clickferry is the N1 ferry search engine in Spain. In our search engine you can find the cheapest ferry tickets for Almeria to Nador online on our website to choose the best timetables at the best price. Here are some special situations where extra discounts are applied to the promotions and discount coupons that are already active in the search engine.
Almeria-Nador ferry discounts
Children under 3 years old can travel for free on this route.
Special discounts are available for children between 4 and 11 years old, students, large families and permanent residents.
Doubts about the choice of ferry?
At Clickfery, we make it easy for you! We offer you personal customer support and help you make your trip. Enter our FAQ section or contact us by Whatsapp in case of any doubts or request after checking them.