Port of Civitavecchia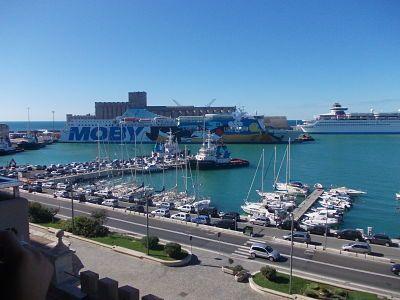 Ferry to Civitavecchia
Information about the port of Civitavecchia
Civitavecchia, Italian city in the region of Lazio, located 80 kilometers from Rome. Main maritime connection with the Italian capital for those passengers traveling on ferries and cruise ships. Book now your ticket with Clickferry.com and travel to Civitavecchia in a comfortable and easy way. Our comparator will offer you all the possibilities at the best price. On arrival in Civitavecchia you can admire the massif "Forte Michelangelo" built to defend the port from pirate attacks.
From this city we can reach Rome in just over an hour and discover every corner of the enchanted city. Although there are innumerable buildings, squares, fountains, churches and monuments that the visitor should know, these are essential: the Colosseum, marvel and symbol of the Roman Empire; the Pantheon of Agrippa, a spectacularly well-preserved monument erected in honor of the gods; the Roman Forum, a prime example of the activity of ancient Rome; the Vatican, a small independent state located within Rome and featuring grandiose works of art such as St. Peter's Basilica and the Sistine Chapel. Also of special interest are the Trevi Fountain, Piazza Navona, Piazza di Spagna, the Basilica of Santa Maria Maggiore, Trajan's Column...
Departure information
The port of Civitavecchia is located on the west coast of Italy and is bathed by the Tyrrhenian Sea. It has the highest number of embarkations, disembarkations and transits of European ports as it is an optimal point of support for visits and excursions to Rome for those who choose the ferry or cruise. As a strategic point it has regular connections with other Italian ports such as Porto Torres on the island of Sardinia and Trapani on the island of Sicily. It also connects with Spain through its route to Barcelona and with Africa through the port of Tunis.