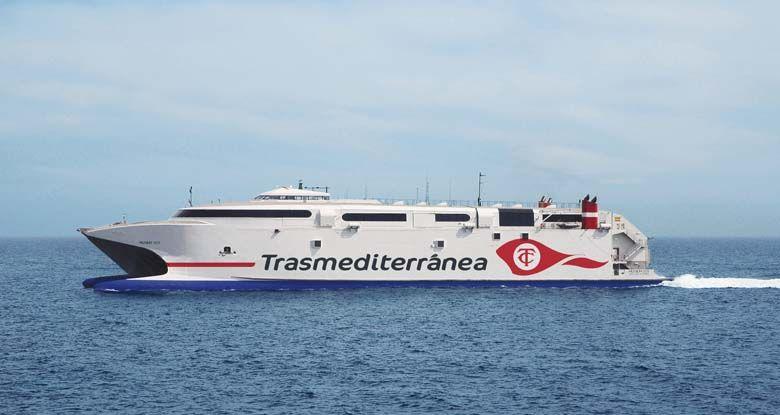 Trasmediterranea
Naviera Trasmediterranea, formerly known as Acciona, is one of Spain's leading ferry companies. It was founded in 1917 and is based in Madrid.
Since 2018 the company is part of the Naviera Armas Trasmediterranea Group, which transports more than 5 million passengers annually and offers a multitude of routes covering passenger transport in the Canary Islands, Strait of Gibraltar and North Africa.
Currently, Trasmediterránea's fleet, together with that of Naviera Armas, is made up of more than 40 vessels which, in addition to their speed, are fully equipped for the comfort and enjoyment of passengers. Apart from the standard ferries, the high-speed ferries, superferries and cargo ships stand out.
On board, you will have the opportunity to enjoy various services such as: restaurants, cinemas, bars, cabins, swimming pools, discotheques, entertainment areas and spacious parking for your vehicle. There are different types of ships depending on the route.
If you wish to travel with your pet, you must carry the correct documentation and obtain the corresponding boarding card. Also, this shipping company offers spaces for animals, but in order to access them, you must make a reservation in advance.
If you want to travel with a vehicle, you must be at the boarding gate 60 minutes before departure time. If, on the other hand, you are travelling alone (without a vehicle), you only have to be there 15 minutes before.
Book your ferry ticket to travel with Trasmediterránea on our website and take advantage of all the benefits of travelling with a leading company.
Routes