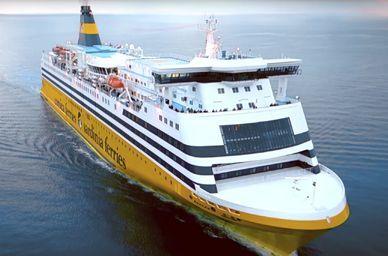 Ferry Corsica Ferries
Corsica Ferries is a ferry company based in France and Italy. Between 1968 and 1981 the company was known under the name of Corsica Line and made its first crossing between Corsica and Italy. In 1981 it joined the company Sardinia Ferries to start establishing connections between Sardinia and Italy.
This carrier covers routes between France, Italy, Corsica, Sardinia and Elba.
.
Its fleet has 5 modern, well-equipped and fast boats. In addition, more than 15 departures are made every day.
On board, you can enjoy restaurants, buffets, swimming pool, outdoor spaces and much more. Children can also have fun in the play and entertainment areas. Are you planning to take your petwith you? You won't have any problem, as there are pet-friendly spaces on board.
Book your ferry tickets to sail aboard Corsica. Through Clickferry, we will help you find the schedules and routes that suit you best. Don't wait any longer and take advantage of exclusive offers!
Routes
From Mallorca
See the legal terms of the transport contract of Corsica Ferries