Cheap Ferry Tickets Formentera Barcelona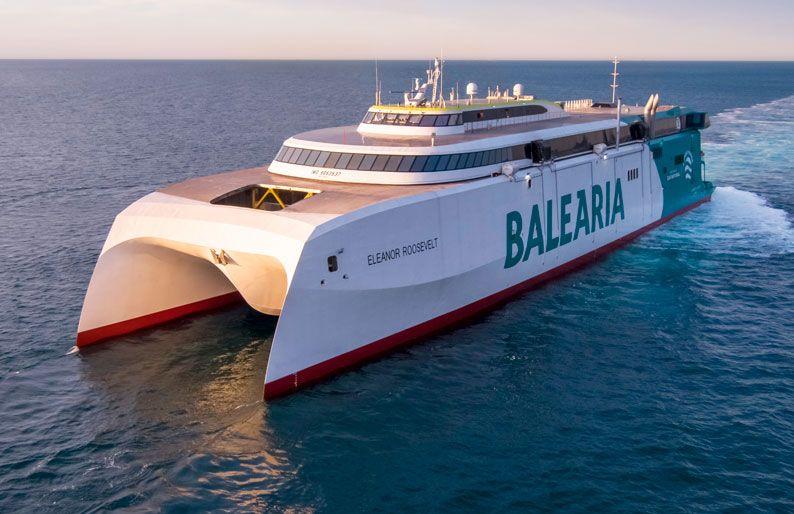 The best offers for Ferries from Formentera to Barcelona
If you need to travel to the mainland from the Balearic Islands, the ferry route from Formentera to Barcelona is a very good option.
On Clickferry you can book at the best price guaranteed your boat trip from Formentera to Barcelona. In addition, you can check which days, schedules, prices and shipping companies you are interested in for this route, as well as alternatives. We check prices with all available ferry companies so that you do not have to do it and you can travel by ferry from Formentera to Barcelona at the lowest price.
To travel by boat from Formentera to Barcelona take into account that there are up to 7 weekly departures and a journey time of approximately 11 hours, depending on the type of ferry. This route is operated by different ferry companies throughout the year, the most popular being Balearia.
Enjoy the second largest city in Spain, Barcelona, capital of Catalonia. Located on the coast and surrounded by the Collserola mountain range, you can visit buildings such as the Sagrada Familia, enjoy fashion, art, medieval buildings and much more.

First ferry
7:00 AM
Last ferry
22:30 PM
Formentera Barcelona Ferry Price
The average price of the ferry from Formentera-Barcelona is about 62€, depending on factors such as season or offers.
For residents of the Balearic Islands, the average price of this ferry is 15€.
You can book your return ferry trip from Barcelona to Formentera quickly and easily with our online ferry search to enjoy the best price.
Formentera to Barcelona Ferry Alternatives
There are alternative ferry routes from Formentera to Barcelona, such as the Ferry Formentera to Denia, being a fast route to travel from the small island to the mainland. The route is operated by the shipping company Balearia, and the approximate duration of the journey is four hours.
Ferry Timetable Formentera to Barcelona
There are 7 ferry crossings weekly from Formentera to Barcelona, making your trip easy. Enjoy your trip with the security and confidence that Clickferry offers you, check our booking system for available schedules and book online your ferry tickets Formentera Barcelona at the best price.
This is a very popular route and we recommend that you make your ferry reservation from Formentera to Barcelona in advance so you do not run out of your ticket and enjoy a good price.
Ferries from Formentera to Barcelona may change depending on the season, so this information may vary. Check our search engine for updated schedules according to the date of your trip and get all the latest information.
Popular ferry operators for the Formentera to Barcelona ferry route
How long does the boat from Formentera to Barcelona take?
The duration of the journey by Ferry Formentera to Barcelona is approximately 11 hours and we travel 299.92km. There is a stopover in Ibiza, where a transfer is made in which we change boats, as we go from the port of the city center to the Muelle Botafoc.
For the change of ship the shipping company offers shuttles to move quickly and comfortably from one dock to another.
Where do I take the ferry in Formentera?
The entrance to the port of Formentera, called the port of La Savina, is located in the north of the island of Formentera. La Savina is the only port for arrivals and departures by boat from the island, where you will find your shipping company.
You can get there by public transport either by bus or cab.
If you have a rental car, you may be able to return it at the port as several car rental companies have offices there, you can check with your rent a car.To arrive with your own vehicle, follow this link to get to the port of La Savina in Formentera with Google Maps, it is located in Poligon de la Marina, 10. 07870, Illes Baleares.
Parking at the port of Formentera:
If you want to park and leave your car, you can access the Ferry terminal areas where you can leave your car short term. If you want to leave it long term you will have to leave it in one of the parking lots located next to the port.
More information about the port of Formentera.
Traveling by car from Formentera to Barcelona
If you want to travel by Ferry from Formentera to Barcelona with a car, van, motorcycle or even bicycle, you can calculate how much it costs to embark your car on board the ferry depending on its size.
Travel with pet on ferry Formentera to Barcelona
Many shipping companies allow the transport of pets on board their ships and ferries. Generally, on routes with the Balearic Islands pets usually have an approximate price between 15 and 35 €, they can travel in a cage or carrier (if they weigh less than 8kg) or in cabins that allow pets. It is recommended to book the ticket in advance, as places are limited. There are different shipping companies that allow pets on board their ferries or ships. We recommend consulting our customer service area for all the conditions and requirements that each one of them demands, such as the health vaccination card, if the pet must carry a carrier, the pet's official document, etc. They must embark and disembark with leash and muzzle in the ship's authorized areas.
Formentera to Barcelona ferry tickets discounts
Where to buy a cheap ticket for the Formentera to Barcelona Ferry?
Our search engine is the #1 Ferry ticket comparator in Spain. At Clickferry you can find the cheapest ferry tickets, take advantage of our offers and buy tickets in advance from Formentera to Barcelona. You can buy online on our website to enjoy the best schedules always at the best price.
We recommend you to take a look at all the information about Barcelona so you can make the most of your trip https://es.wikipedia.org/wiki/Barcelona.
We leave you some of the circumstances for which extra discounts and discount coupons that are already active when you search:
Boat tickets for residents Formentera to Barcelona.
Residents of Balearic Islands or Formentera benefit from 75% discount on the passenger fare, with the necessary documentation in force (ID card or certificate of residence in force). This discount does not apply to vehicles.
Ferry tickets for large family Formentera to Barcelona
You can get discounts on ferry tickets for being a large family, they apply to both large family and special large family. These discounts only apply to persons, not applicable to services or vehicles.The documentation must be the Official Title of Large Family or the Individual Document issued by the corresponding Autonomous Community, must be in force, and must be accompanied by the ID card or similar document. If the passenger is under 14 years of age and does not have the document, the date of birth must be noted on the ticket.
Doubts about the choice of ferry?
At Clickfery, we make it easy for you! We offer you personal customer support and help you make your trip. Enter our FAQ section or contact us by Whatsapp in case of any doubts or request after checking them.