Cheap Almeria Ghazaouet Ferry Tickets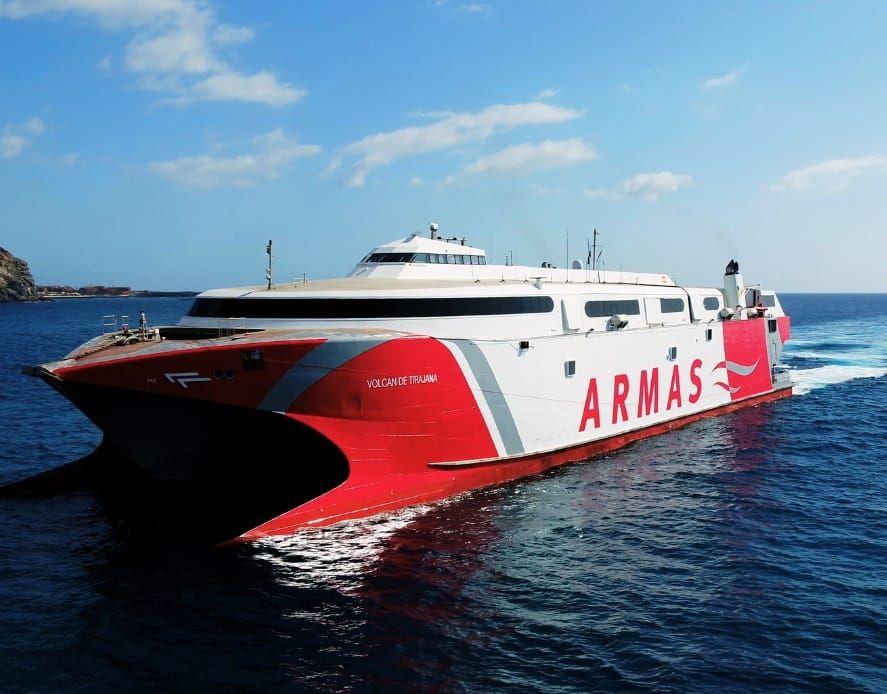 The best offers to travel by boat from Almeria to Ghazaouet
Traveling to Algeria from Spain is possible by boat, the ferry route from Almeria to Ghazaouet is a very valid option.
The Almeria to Ghazaouet ferry route has up to 2 sailings weekly and has a journey duration of approximately 8 hours depending on the type of ferry. This route is normally operated by Armas Trasmediterranea.
On Clickferry you can book the cheapest Almeria Ghazaouet ferry tickets, we have the best price guarantee with no hidden costs. In addition, you can check which days, schedules, prices and ferry companies you are interested in to travel by ferry from Almeria to Ghazaouet.
Important: The authorities recommend buying the ferry Almeria Ghazaouet online to arrive at the port with the ticket closed (shipping company, day and time assigned). They will give priority to boarding.
The autonomous city of Ghazaouet has the main port of Algeria, is a city located in the northwest of the country, near the Moroccan border. It is known for its long history between the Roman and French occupation, as well as for its two characteristic rocks of about 25 meters high that are located on its coast.

First ferry
7:00 AM
Last ferry
22:30 PM
Almeria Ghazaouet Ferry Price
The average ferry price from Almeria to Ghazaouet is approximately 115 € depending on the season we are in as well as the type of ferry may vary by supply/demand.
You can also book a return ferry trip from Ghazaouet to Almeria using our online ferry search at the top of this page at the best price guaranteed for your dates.
Almeria to Ghazaouet Ferry Alternatives
Ferry timetables from Almeria to Ghazaouet
There are approximately 2 ferry crossings per week from Almeria to Ghazaouet. In order to book your ferry tickets online safely check on our booking system the available schedules for your dates and book online your ferry tickets Almeria Ghazaouet at the best price before they sell out.
This route is very busy, so our recommendation and that of the authorities is that you make your online booking of ferry tickets from Almeria to Ghazaouet as far in advance as possible so you do not run out of your ticket and enjoy a better price.
Usually the first ferry from Almeria to Ghazaouet departs at 23:00h in the evening and as there is usually no more than 1 ferry departure per day to Ghazaouet, the last ferry from Almeria to Ghazaouet is also at 23:00h in the evening.
Please note that Almeria to Ghazaouet ferry schedules may vary depending on the season, so this information could change. Check our search engine for updated schedules according to your travel date to get the most up to date information.
Popular ferry operators for the Almeria - Ghazaouet ferry route
The route that connects Spain with the north of Morocco through Almeria is operated by the shipping company Armas Trasmediterranea.
How long does the ferry from Almeria to Ghazaouet take?
The duration of the journey by fast ferry from Almeria to Ghazaouet is approximately 8 hours, where we travel by boat about 201 km.
The time depends on some factors such as the type of ferry (ferry, smart ship or fast ferry) or the weather that accompanies us during the trip.
Where do I take the ferry in Almeria?
The Port of Almeria is an important ferry port and quite busy due to its connection with Africa and Algeria. Therefore, we recommend arriving at least 1 hour in advance, especially if you are going to embark a vehicle on the ship.
The location of the Port of Almeria is very close to the city center, it is near the Nicolas Salmeron Park and can be reached easily on foot, by bus or cab. Once you are in the port you will have to go to the Maritime Passenger Station of the Port of Almeria, a two-storey building of 8,400 m2 that has all kinds of services for passengers.
Parking at the Port of Almeria
If you do not want to travel with your car or motorcycle on this route and you are looking for a place to park, in the port of Almeria you have parking to leave your vehicle.
More information about the port of Almeria.
Travel by car or motorcycle from Almeria to Ghazaouet
If you want to make a ferry trip from Almeria to Ghazaouet with a car, motorhome, van, motorcycle or even bicycle here you can calculate how much it costs to embark your vehicle on board the ferry depending on its size.
Please note that if you are traveling with your vehicle outside the European Union you will have to request the green card from your insurance to make sure you have coverage in Algeria.
Travel with pet on ferry Almeria to Ghazaouet
To travel to Algeria with your pet the following extra documentation is required: passport or animal health certificate of origin model according to regulation 577/2013. Identification with microchip. Rabies vaccination in force.
Many shipping companies allow the transport of pets on board their ships and ferries. It is very important that you check on the website of each shipping company which are the requirements, they may request the health vaccination card, official animal identification document, traveling in a cage or carrier or if you are traveling with a dog, that it is always properly restrained with a muzzle and leash during boarding.
In case of doubt, we recommend that you consult directly with our customer service department.
Traveling to Algeria by boat: Is medical insurance necessary?
The Ministry of Foreign Affairs advises to travel to Algeria with a complete medical insurance, including repatriation by medicalized aircraft and with the widest possible coverage that opens the possibility of going to the best hospitals in Algeria and cover any incident.
To enter Algeria may require an international vaccination certificate against yellow fever (disease transmitted by mosquito bites) for all travelers except children under 1 year of age from countries with risk of yellow fever transmission and those travelers who have made transits of more than 12 hours at airports in countries with risk of yellow fever transmission. The yellow fever vaccination certificate is valid for life.
The following vaccinations are recommended for travel to Algeria: Hepatitis A, Tetanus, Typhoid Fever, Yellow Fever, Hepatitis B, Rabies.
Traveling to Algeria: Currency exchange
The Algerian Dinar (DA) is the official currency of Algeria but it is neither convertible nor quoted on international markets. Both its import and export are totally prohibited. Only resident travelers are allowed to enter or leave the country with a maximum of 10,000 dinars.
International currency can be exchanged for dinars when entering the country, in banks and major hotels. In hotels it is also possible to pay with international credit cards.
All travelers (Algerian residents or not) entering Algeria are allowed to bring in foreign bank bills and traveler's checks subject to a customs declaration of currencies exceeding the threshold set by the Bank of Algeria (1,000 euros at present) which may be subject to verification upon departure from the country.
Where to buy a cheap ticket for the Almeria to Ghazaouet Ferry?
Clickferry is the N1 ferry comparator in Spain. In our search engine you can find the cheapest ferry tickets to make the advance purchase of ferry tickets from Almeria to Ghazaouet online on our website to choose the best schedules at the best price. Here are some special situations where extra discounts are applied to the promotions and discount coupons that are already active in the search engine.
Doubts about the choice of ferry?
At Clickfery, we make it easy for you! We offer you personal customer support and help you make your trip. Enter our FAQ section or contact us by Whatsapp in case of any doubts or request after checking them.