Cheap Ferry tickets Mallorca (Alcudia) Barcelona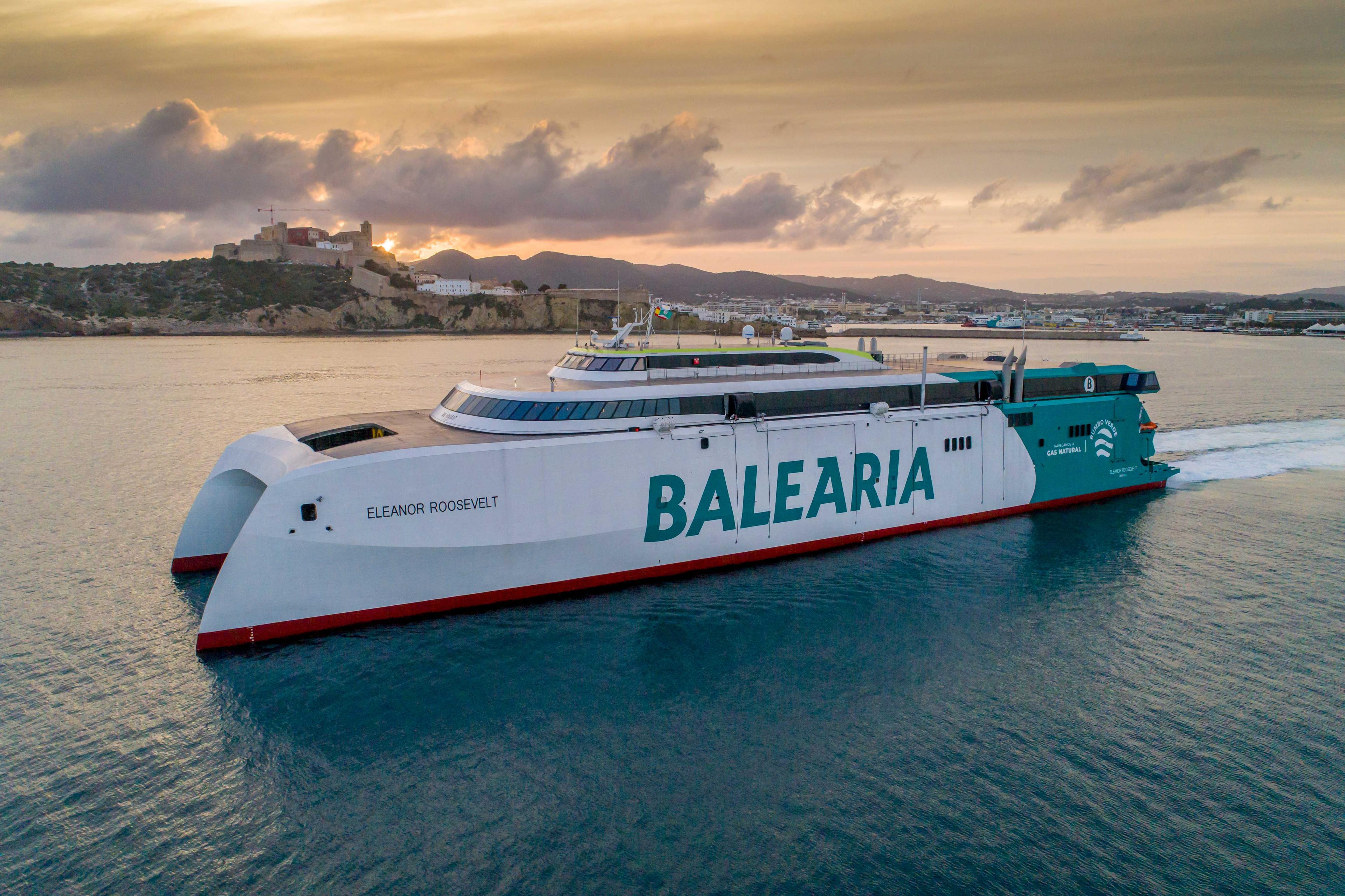 Best offers for Ferries from Mallorca (Alcudia) to Barcelona
If you want to travel to mainland Spain from the Balearic Islands, the ferry route from Mallorca (Alcudia) to Barcelona is one of the best routes to do so.
The boat route from Mallorca to Barcelona has almost 20 crossings per week and has an approximate travel time of 6 to 7 hours, the time depends on the type of ferry. This route is operated by several ferry companies throughout the year, mainly Balearia and Trasmed.
In Clickferry we offer you all the routes, schedules and prices so you can make ferry reservations today with origin in Mallorca (Alcudia) and destination to Barcelona. On our website we offer you the cheapest and cheapest prices and great deals and discounts so you can travel from (Alcudia) to Barcelona.
You can enjoy the second largest city in Spain and capital of Catalonia. Barcelona is located on the coast, surrounded by the Collserola mountain range, which makes it a unique city. You can visit historic buildings such as the Sagrada Familia, enjoy art, fashion, medieval buildings and much more.

First ferry
7:00 AM
Last ferry
22:30 PM
Mallorca (Alcudia) Barcelona Ferry Price
The average price of the ferry Mallorca (Alcudia) to Barcelona is around 55 euros, but these prices can vary and go down to 25 euros, if for example it is low season. You can book the ferry back to Mallorca using our ferry search engine on this page to enjoy the best prices on the market.
Mallorca (Alcudia) to Barcelona Ferry Alternatives
There are alternative ferry routes from Mallorca (Alcudia) to Barcelona, such as the Mallorca (Palma) - Barcelona ferry.
It is a route of the most famous Balearic Islands with the Catalan capital. It has a duration of approximately 8 hours and a distance of 205.47 km.
Discover all the routes where you can book a ferry trip to Barcelona.
Ferry schedules from Mallorca (Alcudia) to Barcelona
There are almost 20 weekly crossings from Mallorca (Alcudia) to Barcelona so that you have availability of schedules and facilitate your trip. You can enjoy your trip with total security consulting online all schedules and book your tickets in advance.
It is a route with high demand, so we recommend that you make your ferry booking from Mallorca (Alcudia) to Barcelona in advance to secure your ticket and you can enjoy a better price.
Please note that ferry schedules from Mallorca to Barcelona may vary depending on the season and this information may change. Check our search engine for updated schedules for your travel date and get all the latest information.
Popular ferry operators for the Mallorca (Alcudia) to Barcelona ferry route
How long does the boat from Mallorca (Alcudia) to Barcelona take?
The duration of the ferry trip from Mallorca (Alcudia) to Barcelona is approximately 6 hours and a half crossing, the ferry from Mallorca will take you from the Balearic capital to the peninsula.
You will travel 188.88 km, this time depends on factors such as the type of boat or the weather that accompanies us.
Where do I take the ferry in Mallorca (Alcudia)?
The entrance to the port of Alcudia is located in the north of Mallorca, at Muelle Comercial, s/n, Alcudia, 07410 Mallorca.
You can reach the port of Mallorca Alcudia with Google Maps following this link.
In the port of Alcudia in Mallorca you can find your ferry company easily as it is a small port, in the ferry search engine you can find it quickly.
Parking in the port of Mallorca (Alcudia):
If you do not want to travel with your car on this crossing and you want to park we recommend you to look for information about different parking lots, as there are paid, public and depending on the type of vehicle. Prices vary depending on whether it is for cars, motorcycles or caravans.
More information about the port of Alcudia in Mallorca.
Traveling by car from Mallorca (Alcudia) to Barcelona
If you are taking a ferry trip from Mallorca (Alcudia) to Barcelona with a car, caravan, bus, motorcycle, van or bicycle, you can calculate how much it costs to take your car on board the ferry depending on its size.
Travel with pet on ferry Mallorca (Alcudia) to Barcelona
There are different shipping companies that allow the transport of pets on board their ferries and ships. We recommend that you consult the conditions and requirements of each shipping company so that you can travel with total security and peace of mind. Most of them ask for the health vaccination card, the official animal identification document and also require that they travel in a carrier, on a leash and with a muzzle.
We recommend that you consult directly with our customer service department about the animal transport policies for your ferry route.
Generally on routes with the Balearic Islands pets usually have an approximate price between 15 and 35 €, they can travel in cage or carrier (if they weigh less than 8kg) or in cabins that allow pets. It is recommended to book the ticket in advance as places are limited.
Discount ferry tickets Mallorca (Alcudia) to Barcelona
Where to buy a cheap Mallorca (Alcudia) to Barcelona ferry ticket?
The number 1 ferry ticket search engine in Spain is Clickferry. On our website you can find the cheapest and most economical ferry tickets, offering you the opportunity to pre-purchase ferry tickets from Mallorca (Alcudia) to Barcelona. You can also enjoy special discounts that are applied directly from the search engine.
Take a look at all the information about Barcelona so you can make the most of your trip without missing anything.
Boat tickets for residents Mallorca (Alcudia) to Barcelona
European Union citizens residing in the Balearic Islands can benefit from a 75% discount on the general passenger fare, provided they meet all the requirements. This discount can be combined with other discounts such as large family discounts.
Ferry tickets for large family Mallorca (Alcudia) to Barcelona
You can get discounts on ferry tickets from Mallorca to Barcelona for being a large family, discount applies to general large family and special family, the offer applies to persons and excludes services and vehicles.
To prove this condition must provide the official title of large family, the individual document issued by the Autonomous Community concerned and must be in force. The national identity card or equivalent must be provided. If the traveler is under 14 years of age and does not have the document, the date of birth must be noted on the ticket.
Doubts about the choice of ferry?
At Clickfery, we make it easy for you! We offer you personal customer support and help you make your trip. Enter our FAQ section or contact us by Whatsapp in case of any doubts or request after checking them.