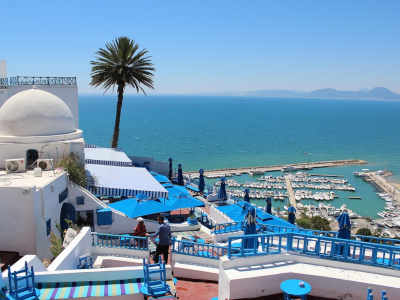 Tunisia is a country of great cultures, its significance over the course of history having left behind a rich, varied country of great interest to tourists. It is located in North Africa on the Mediterranean coast and has a mild, pleasant climate.
Tunisia preserves important archaeological enclaves; you should not miss out on a visit to the ancient city of Carthage, the ruins of Dougga (the best preserved in Tunisia), the Bardo Museum, which has one of the best Roman mosaic collections, and the Roman amphitheatre of El Jem colosseum.
With more than 1,300 kilometres (807 miles) of coast, Tunisia has fine sand beaches and extraordinary coves with hot waters, all under the turquoise blue sky of the Mediterranean. Furthermore, in its waters you can sail and practise numerous water and underwater activities. The diverse landscape of the country combines mountains, dunes, deserts and oases where you can go on routes by motorcycle or bicycle, camel rides, hiking and trekking, as well as surfing or skiing on the sand. A whole world of adventures for the most adventurous travellers.
Tunisia's offerings are rounded off with the wellness centres, where a thalassotherapy session can bring great health benefits, and the Tunisian souk markets, where you can buy exotic articles like rugs, pots, jewellery or perfume.
Taking the ferry is the most convenient, economic way to travel to Tunisia. Clickferry.com is the comparison engine that provides all the timetables, the best prices and all possible routes for you to enjoy an exotic country of immense beauty with a lot to offer visitors.