Cheap Nador Motril Ferry Tickets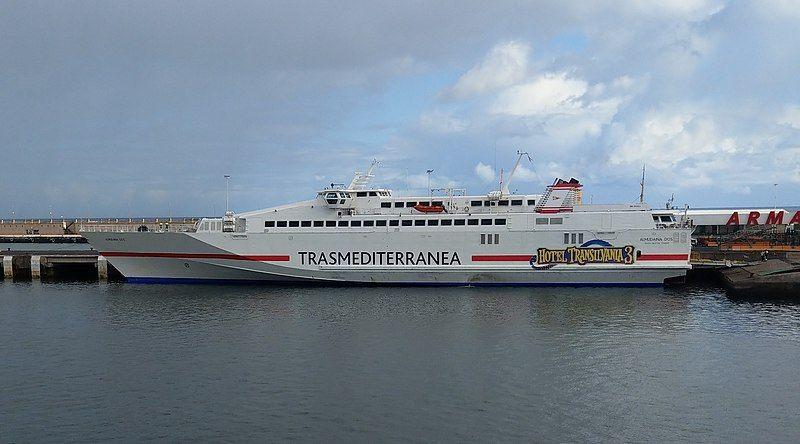 Best offers for Ferries from Nador to Motril
If you need to travel from Morocco to the south of Spain, the ferry route from Nador to Motril is one of the most demanded routes.
Traveling by boat from Nador to Motril is a very interesting option especially if you are thinking of traveling to Motril with your car, van or motorcycle. This way you will be able to carry more luggage if you need it. If this is your idea, we recommend that you book as far in advance as possible because this route is usually sold out quickly if you want to travel with a vehicle on board.
This boat route from Nador to Motril connects the southeast of Andalucia with Morocco in approximately 8 hours depending on whether the boat is a fast ferry or a conventional one and is operated by Armas Trasmediterranea.
On Clickferry you can book at the best price guaranteed your boat trip from Morocco to Spain. In addition, you can check days, schedules, prices and shipping companies that interest you to travel by ferry from Nador to Motril. We check prices with all available ferry companies so that you do not have to do it and you can travel by ferry from Nador to Motril with the lowest price.
Important: The authorities recommend buying the ferry Nador to Motril online to arrive at the port with the ticket closed (shipping company, day and time assigned). They will give priority boarding.
Motril is located in the south of the province of Granada (Andalusia). It has more than 20 km of beaches, where you can enjoy small coves or long beaches such as Playa Granada, Poniente, Torrenueva and Calahonda. It is 45 minutes drive from Granada and just over 1 hour from Malaga, is a good destination to start moving around Andalusia.

First ferry
7:00 AM
Last ferry
22:30 PM
Nador Motril Ferry Price
The average ferry price from Nador to Motril is approximately 90€, depending on the season we are in it may vary due to supply/demand. You can book Motril to Nador ferry crossings using our booking engine at the top of this page at the best price guaranteed for your dates.
Nador to Motril Ferry Alternatives
Nador to Motril Ferry Timetable
There is usually a daily ferry departure from Nador to Motril. In order to book your ferry trip safely, check our ferry timetable for your dates and book online your ferry tickets from Nador to Motril at the best price.
As this is a very popular route, we recommend that you book your ferry tickets from Nador to Motril as far in advance as possible to get the best price and avoid being sold out.
The first and last ferry usually leaves Nador for Motril at 23.59h in the evening and arrives in Spain at 08.00h in the morning.
Please note that ferry schedules from Nador to Motril may vary depending on the season. Check our search engine for updated schedules according to the date of your trip to get the most current information.
Popular ferry route from Nador to Motril
How long does the boat from Nador to Motril take?
The duration of the ferry ride from Nador to Motril is approximately 8 hours where we travel by boat about 178 kilometers. This time depends on some factors such as the weather that accompanies us during the trip or the type of boat, if it is conventional or fast ferry.
Where do I take the ferry in Nador?
Ferries to and from Nador dock at the Port of Beni Enzar, a city bordering Melilla. The port of Beni Enzar is one of the main ports of Morocco for passenger transport.
Travel by car or van from Nador to Motril
If you want to make a ferry trip from Nador to Motril with a car or van here you can calculate how much it costs to embark your vehicle on board the ferry depending on its size.
Also, if you travel with your car or van from Morocco you can take with you on board everything you need to transport to Spain, this time the limits are set by your van or trunk of your car and not the transport you choose! Forget about luggage limitations and travel in total comfort.
You can also navigate without a vehicle on board and rent a car in Motril or use public or private transport services, from Motril there are many bus connections with other cities, as well as the airport.
Traveling with pet on ferry from Nador to Motril
Many shipping companies allow the transport of pets on board their ships and ferries. It is very important that you consult with our customer service which are the requirements for transporting animals on this route, they may request the health vaccination card, official animal identification document, traveling in a carrier or if you are traveling with a dog, that it is always properly restrained with muzzle and leash during boarding.
We recommend that you consult directly with our customer service department.
Discounted ferry tickets from Nador to Motril
Where to buy a cheap ticket for the Nador to Motril Ferry?
Clickferry is the Nador to Motril ferry ticket comparator for Spain. In our search engine you can find the cheapest ferry tickets for Nador to Motril Ferries online with the best conditions.
Doubts about the choice of ferry?
At Clickfery, we make it easy for you! We offer you personal customer support and help you make your trip. Enter our FAQ section or contact us by Whatsapp in case of any doubts or request after checking them.