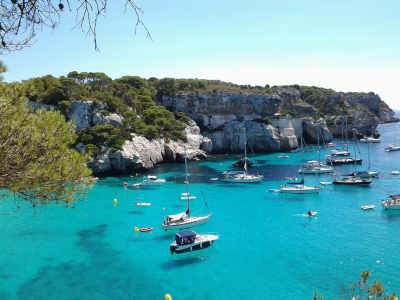 The Balearic Islands are an autonomous community of Spain and are formed by the islands of the Balearic archipelago. Their capital is Palma, and the sea that surrounds them is the Mediterranean Sea.
Do you want to travel by ferry to the Balearic Islands?
Before choosing your route, you should know that they are classified into two groups of islands and several islets. On the one hand, we find the Pitiusas (Ibiza, Formentera and Espardell), and on the other, the Gimnesias islands (Mallorca and Menorca).
According to statistics, the Balearic Islands are the third favourite destination for international tourism, after the Canary Islands and Catalonia.
Do you know their delicious gastronomy?
You can't leave here without trying sobrassada, butifarra or xolís (similar to sausage). Also, a typical dish that must be eaten is the famous coca salada or Coca de trempó which consists of a dough of bread with tomato and vegetables.
Have you travelled by ferry before?
Here are some of the advantages of travelling by boat is always the best option.
In the first place, you can embark your vehicle to be able to move in your city of destiny with total comfort without worrying about renting a car. Also, unlike airplanes, there is no limit on luggage in most shipping companies, feel free to embark with everything you need. Without a doubt, another of the advantages of travelling by sea is the comfort offered by a ferry during the entire voyage. You will always be able to choose between more comfortable and spacious armchairs or cabins.
Ferries bound for the Balearic Islands offer numerous daily departures, which is why at Clickferry.com we give you total freedom to choose the time and type of boat that best suits your needs. You must bear in mind that you must book in advance to secure a place on the boat and to be able to get ferry tickets at an affordable price, as it varies.
Some of the most popular connections between the Iberian Peninsula and the Balearic Islands are made from the ports of: Valencia, Barcelona, Denia or Gandía among others.